Proudly Serving the Lower Mainland, Vancouver Island, the Gulf Islands, Sunshine Coast, Vernon and the North Okanagan
Energy Management Professionals
Greener Homes Inc. is a leading provider of Energy Management Services across British Columbia. Whether you're building a new home or upgrading a current one, our team of energy advisors and energy management professionals will work with you every step of the ways to ensure you get what you need.
Our goal is to empower homeowners with the knowledge and tools they need to make their homes more energy-efficient and sustainable. We believe that every small step towards eco-conscious living can have a significant impact on the environment and future generations.
Give us a call if you'd like to learn more about the programs being offered. Our knowledgeable customer service representatives are well-versed in federal and provincial programs and will be happy to guide you through the process.  
EnerGuide Home Evaluations Canada Greener Homes Grant
Here's how the Federal Program Works...
Have us perform a pre-retrofit evaluation before you begin eligible upgrades.
Complete the upgrades you choose.
Have us perform the post-retrofit evaluation to confirm the upgrades.
$600 of the evaluation costs are refunded, included in the $5,600 maximum.
Upload your receipts to the Greener Homes Portal.
Grant cheques are typically mailed 90-120 days after the homeowner uploads their receipts to the Greener Homes Portal.
Your Home Qualifies If...
Own a detached, semi-detached, row house, or mobile home.
The home must be your primary residence.
Have an energy assessment both before and after your renovations.
Complete at least one eligible energy up-grade renovation.
Provide copies of all receipts for energy upgrades.
Have a pre-retrofit evaluation after Dec. 01, 2020.
BC Energy Compliance Reports Performance Paths for Part 9 Buildings
What is the BC Energy Step Code?
The Step Code is a new provincial standard in the BC Building Code that provides an incremental and consistent approach to achieve energy-efficient construction. 
Through performance modelling and on-site testing, buildings constructed to Step Code standards will exceed the energy performance requirements of the base BC Building Code.
If you're building a home in British Columbia and need a Pre-Construction Compliance Report to apply for your building permit, call us today. We have a quick turnaround and will be there for you every step of the way. This includes mid-construction and the as-built compliance report that you'll need to get your occupancy permit.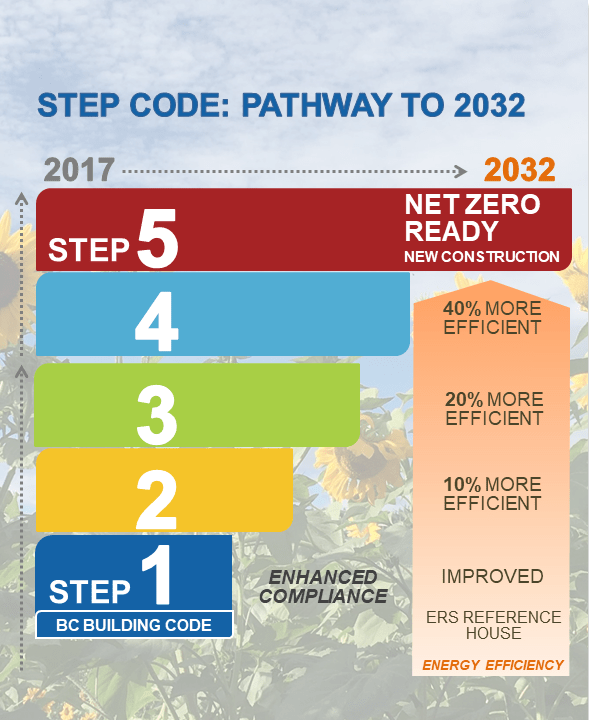 Greener Homes Inc. - Your One-Stop Shop for Energy Consulting Services in British Columbia
EnerGuide Evaluations for Canada Greener Homes Grant Program
Harness the power of an EnerGuide evaluation to unlock the benefits of the Canada Greener Homes Grant Program. Our certified energy auditors will conduct a thorough assessment of your home's energy-using systems, identify areas for improvement, and provide you with a detailed report outlining energy-saving recommendations. With our assistance, you can maximize your grant eligibility and significantly reduce your energy consumption.
BC Energy Step Code Compliance Reports
Ensuring your home adheres to the BC Energy Step Code is crucial for achieving energy-efficient construction standards. Our experienced energy management professionals will conduct a comprehensive evaluation of your home's construction plans and provide a detailed compliance report. We'll guide you through the process, ensuring your home meets the stringent requirements of the BC Step Code.
Additional Energy Consulting Services:
Energy Retrofit Planning
Renewable Energy Installation Guidance
Home Energy Management System Recommendations
Energy Efficiency Education and Awareness
Blower Door Testing
Renovation Energy Upgrade Proposal (REUP)
HOT2000 Energy Modelling
Why Choose Greener Homes Inc:
Expertise and Experience: Our team of licenced energy advisors and consultants possesses extensive experience in energy efficiency and sustainable home practices.

Personalized Approach: We tailor our services to each homeowner's unique needs, ensuring your energy-efficient journey is seamless and effective.

Comprehensive Support: We provide guidance and support throughout the entire process, from energy evaluations to grant applications and Step Code Compliance.

Commitment to Sustainability: We're dedicated to helping British Columbia achieve its environmental goals by promoting energy-efficient and sustainable homes.
Embark on Your Energy-Efficient Journey with Greener Homes
Call us today for a free consultation.
Make your Home More Comfortable...
... and Save Money Doing It
Access Money to Make Your Home More Energy Efficient